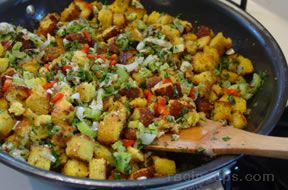 Directions
Cut cornbread into cubes about 1". Chop the onions, cut the celery into thin slices, and mince the garlic. Chop celery leaves, if using.
Melt butter over medium heat in a large skillet. Add onions, garlic and celery; cook and stir for about 5 minutes. Add sage, parsley and cornbread and mix gently so the cornbread pieces don't break. Stir in the chicken stock, salt and pepper.
Bake, covered, at 350° for 30 minutes, and then uncover and bake for an additional 15 - 30 minutes to develop a crust. To stuff a turkey or roasting chicken, loosely fill the cavity - don't pack - immediately before putting the bird into a preheated oven. Any extra stuffing can be baked with the bird during the last hour of roasting.
Prep Time: 30 minutes
Cook Time: 1 hour


Ingredients
-
1 recipe of cornbread, about 8 cups cubed
-
2 onions
-
4 celery stalks, with leaves if possible
-
2 cloves garlic
-
1/2 cup chopped parsley
-
1/4 cup butter
-
1/2 cup chicken broth or bouillon
-
2 teaspoons dried sage, crumbled
-
1/2 teaspoon salt
-
1/2 teaspoon pepper