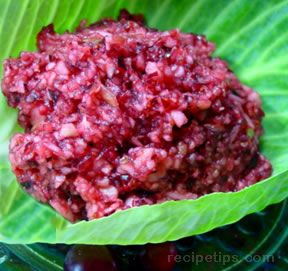 Directions
Wash and sort the cranberries, removing any soft or discolored ones. Wash and core the apples (peel or not as you wish) and cut into big chunks. Using the steel blade of a food processor, chop but do not purée the apples and cranberries.
Measure the honey and orange juice concentrate into a small bowl and warm enough to thaw the orange juice. Add the salt and stir into the cranberry mixture.
Can be served immediately, but the avors will blend and improve after several hours.
Prep Time: 15 minutes
Container: food processor
Servings: 4


Ingredients
-
12 ounces cranberries, fresh or frozen
-
2 apples
-
1/2 cup honey
-
1 tablespoon frozen orange juice concentrate
-
pinch salt