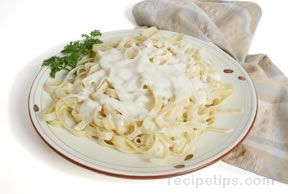 Directions
Melt the butter in a large saucepan over medium heat and then add the cream. Bring butter and cream to a boil, reduce heat and simmer for 5 minutes, stirring while it simmers. After simmering, add the Parmesan cheese and salt and pepper to taste. Turn off heat under pan and begin preparing the pasta.
Add water to a large saucepan and bring to a boil. Just before water begins to boil, add salt. When the water comes to a full boil, add the fettuccine and bring water to a boil again, stirring occasionally.
Turn heat down so water is just at a steady boil. Check fettuccine package for the length of time to boil. Cook until the pasta is al dente. (Check for doneness before the full cooking time is up to ensure that the pasta does not overcook.) Drain well when done.
Turn the burner under the sauce back to a low setting. Either: 1) add all the fettuccine to the sauce and toss until all pasta is well coated, or 2) top the fettuccine just before serving and allow it to be tossed at the table.
Serve immediately and garnish if desired with fresh Parmesan grated on top and/or chives cut into small bits.
Prep Time: 15 minutes
Cook Time: 30 minutes
Container: Two large saucepans
Servings: 4


Ingredients
-
1/4 cup butter
-
1 cup heavy cream
-
2/3 cup Parmesan cheese, freshly grated
-
12 ounces fresh fettuccine, or 8 oz. dried
-
salt and pepper
-
Parmesan cheese, freshly grated for serving