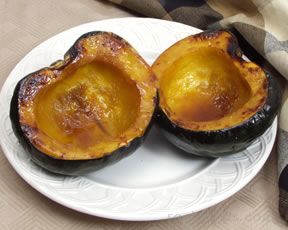 Directions
Cut squash in half and remove seeds and stringy fibers. Pierce the skin in several places and place in a microwave-safe baking dish or bowl with cut sides down or facing the sides of the bowl. Cover with plastic wrap, leaving a small opening along the edge to allow steam to escape.
Cook in the microwave on high for 10 to 20 minutes. Pierce with a fork to check for doneness. Cook for additional time if not at desired tenderness.
GLAZE: While squash is cooking, mix glaze by adding melted butter, brown sugar and salt. Cook in the microwave until ingredients are well combined and have started to thicken.
When squash is done in the microwave, place the halves cut side up on a large baking sheet. Drizzle the glaze mixture over the edges and in the cavity of the squash halves. Place the squash under the broiler for 5 to 7 minutes until the glaze has caramelized. If necessary, cut into smaller serving sizes and serve while hot.
Prep Time: 15 minutes
Cook Time: 30 minutes
Container: Microwave-safe baking dish or large bowl


Ingredients
-
1 acorn squash - medium size
-
GLAZE:
-
1/8 teaspoon salt
-
1 1/2 tablespoons butter (or margarine) - melted
-
1 1/2 tablespoons brown sugar