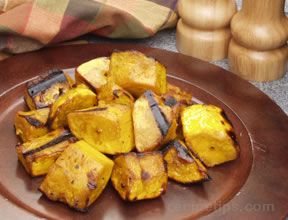 Directions
Pierce skin of squash several times and place on a microwave-safe plate in the microwave; cook on high for 6 to 8 minutes. This will soften the squash slightly, making it easier to cut in half. Overcooking at this point will make the squash fall apart when handling.
After microwaving, allow the squash to sit for 2 or 3 minutes. Cut in half crosswise and remove seeds and stringy fibers from the center. Peel away the outer skin of the squash and then cut the two halves into approximately 1 1/2" cubes.
Thread the squash cubes onto metal skewers and brush with 1/4 cup melted butter. Place the squash on the grill over indirect high heat and close the cover. Cook for 15 to 20 minutes. Turn 2 or 3 times throughout the cooking time and baste with leftover melted butter.
While squash is cooking, mix 1/4 cup melted butter and honey together and heat in microwave until hot. Squash is done if tender when poked with a fork. When done, remove the squash from the grill and place on a platter. Brush the squash with the honey and butter mixture. Serve while hot.
Prep Time: 45 minutes
Cook Time: 30 minutes
Container: Microwave-safe dish


Ingredients
-
1 1/2 pounds buttercup squash (or other winter squash)
-
1/4 cup melted butter (or margarine)
-
GLAZE:
-
1/4 cup melted butter (or margarine)
-
2 tablespoons honey