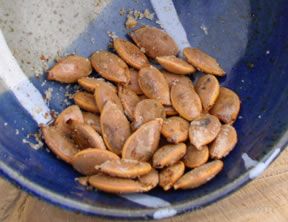 Directions
Scoop the seeds and pulp from the seed cavity and rinse off the pulp. Drain.
For each cup of seeds, add 1 tablespoon of olive or canola oil and 1/2 teaspoon salt. Mix until seed are all coated. Add, if you wish, chili powder, garlic powder or other seasoning.
Spread on a baking sheet and bake 30 - 40 minutes at 350º F, stirring occasionally. If you have only a small amount to roast or want to avoid using oil, sprinkle seeds with salt and toast in a large heavy-bottomed skillet over medium heat, stirring frequently, until lightly browned. Be watchful to prevent burning.
Serve as a snack or add to salad or soup for added crunch.
Prep Time: 15 minutes
Cook Time: 45 minutes


Ingredients
-
pumpkin or squash seeds
-
olive or canola oil
-
salt
-
chili powder, garlic powder or other seasoning (optional)