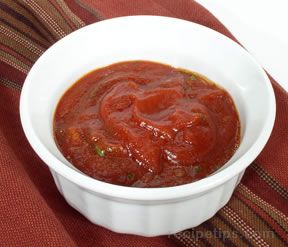 Directions
Combine tomato sauce, tomato paste, olive oil, cilantro, honey, garlic and red pepper flakes.
Cover with plastic wrap. Microwave on medium-high temperature for 1 1/2 to 3 minutes or until heated thoroughly.
Serve immediately.
Tip: Leftover tomato paste and tomato sauce can be frozen in a freezer safe bag and used at a later date.
Prep Time: 5 minutes
Cook Time: 5 minutes


Ingredients
-
1/3 cup tomato sauce
-
3 tablespoons tomato paste
-
1 1/2 tablespoons (to 2 tablespoons) olive oil, as needed
-
1 tablespoon cilantro
-
2 teaspoons honey
-
1 clove garlic, minced
-
salt and pepper to taste
-
1 pinch hot red pepper flakes (optional)