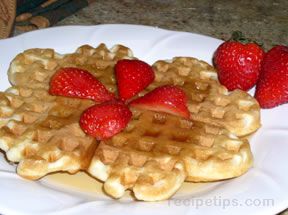 Directions
In a medium bowl, sift together all dry ingredients.
In a small bowl, beat eggs until blended. Add milk and melted butter. Mix together with dry ingredients, blend until smooth.
Pour batter (approximately 1/2 cup, depending on the size of the waffle maker) into center of hot waffle maker. Waffles are usually done when the waffle maker is no longer steaming.
Serve with butter, maple syrup and/or fresh fruits.
Prep Time: 15 minutes
Cook Time: 15 minutes
Container: electric waffle maker
Servings: 4


Ingredients
-
2 cups flour
-
3 teaspoons baking powder
-
1/2 teaspoon salt
-
2 eggs, large
-
2 cups milk
-
6 tablespoons butter, softened
-
TOPPING:
-
maple syrup
-
fresh fruit
-
butter