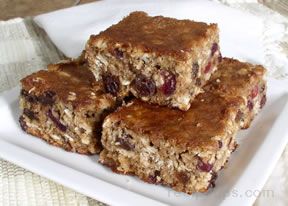 Directions
Preheat oven to 350º F. Spray (bottom only) pan with non-stick cooking spray.
Combine sugars, yogurt, egg white, oil, milk and vanilla in a large bowl and whisk together. Add dry ingredients and beat with a spoon until combined. Add oatmeal and dried fruits.
Pour into prepared pan. Bake 20 to 25 minutes or until golden in color.
Cool completely before cutting into bars. Cover to prevent bars from drying out.
Prep Time: 15 minutes
Cook Time: 30 minutes
Container: 8-inch square baking pan
Servings: 12


Ingredients
-
1/2 cup brown sugar, packed
-
1/4 cup sugar, granulated
-
1/2 cup yogurt, plain, low-fat or fat-free
-
1 egg white, lightly beaten
-
1 tablespoon vegetable oil
-
1 tablespoon milk, fat free
-
1 1/2 teaspoons vanilla
-
3/4 cup all purpose flour
-
3/4 teaspoon baking soda
-
1 teaspoon ground cinnamon
-
1/4 teaspoon salt
-
1 1/2 cups oatmeal, uncooked, old fashioned or quick cooking
-
1/2 cup raisins
-
1/2 cup dried cranberries