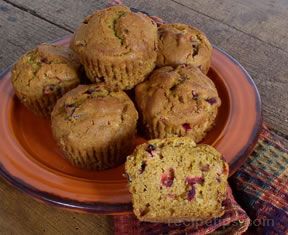 Directions
Preheat oven to 375º F. Line muffin tins with paper liners or spray with non-stick cooking spray.
Whisk together all dry ingredients in a large bowl. In a smaller bowl, beat eggs, oil, milk and squash until combined. Add mixture to dry ingredients until just combined, do not over mix. Fold in cranberries.
Fill muffin tins 1/2 to 2/3 full. Bake large muffins 17-20 minutes, mini muffins 15-17 minutes.
Test for doneness by inserting a toothpick into the center of a muffin. If toothpick is clean when removed, the muffins are done. Cool on wire rack.
Prep Time: 30 minutes
Cook Time: 30 minutes


Ingredients
-
2 1/4 cups all purpose flour
-
1 cup granulated sugar
-
1 teaspoon ground cinnamon
-
1/4 teaspoon ground nutmeg
-
1/4 teaspoon ground cloves
-
2 teaspoons baking soda
-
1/2 teaspoon baking powder
-
1/2 teaspoon salt
-
1 cup squash, cooked, mashed
-
1 egg, large, beaten
-
3/4 cup vegetable oil
-
1/2 cup milk, fat free
-
1 cup cranberries, fresh, coarsely chopped