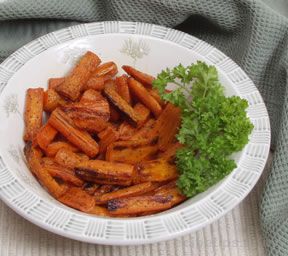 Directions
Preheat oven to 400 degrees F.
Clean and peel carrots. Cut carrots in half lengthwise and then cut into 1 1/2 to 2 inch long pieces. Place carrots on a baking sheet and lightly coat with vegetable oil. Season the carrots with salt and pepper to taste.
Bake in the oven for 20 to 30 minutes until carrots are tender-crisp and lightly browned.
Serve while hot.
Prep Time: 30 minutes
Cook Time: 30 minutes
Servings: 6


Ingredients
-
1 pound fresh carrots
-
1/4 cup vegetable oil
-
salt (to taste)
-
pepper (to taste)