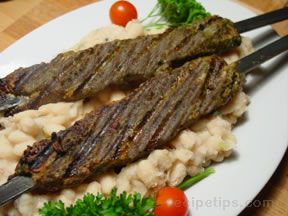 Directions
In a food processor, pulse coarsely chopped onion and garlic. Add salt, cumin, coriander and pepper and pulse again. Add the ground lamb and egg yolk and run processor until everything is well mixed and feels 'sticky'. (If you don't have a processor, chop onions and garlic very finely and mash with the salt. Stir in the egg yolk and remaining spices. Spread the meat out and spread the onion mix over it. With your hands, knead the meat mixture very thoroughly, until it feels dense and gluey.)
Divide the meat into 4 portions and shape around skewers 3/8" - 1/2" wide and about 15 inches long. Using wide skewers keeps the meat from rotating around the skewer when you try to turn it. If you don't have access to wide skewers, use 2 regular ones, about 1/2" apart, for each kebab, and use a wide spatula to help turn the kebabs.
Cover and chill for at least 1/2 hour, up to overnight.
Remove from refrigerator when you start the grill. Make sure the grate is very well oiled, and cook over direct heat, about 5 minutes on each side or to your desired doneness.
Prep Time: 30 minutes
Cook Time: 15 minutes
Container: grill, wide skewers
Servings: 4


Ingredients
-
1 pound ground lamb
-
1 onion
-
2 cloves garlic
-
3/4 teaspoon salt
-
1 teaspoon cumin, ground
-
1 teaspoon coriander, ground
-
1/2 teaspoon pepper
-
1 egg yolk