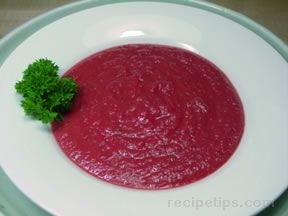 Directions
Peel and chop or grate the beets, potatoes and carrots. If using fresh vegetables, chop the cabbage, onions and tomatoes.
Put cabbage, carrots, potatoes, onions and broth in a large pan or stock pot. Bring to a boil, reduce the heat and simmer for about 30 minutes.
Add beets, tomatoes and vinegar or lemon juice and simmer until the beets are tender, 20 to 30 minutes.
Stir in honey or sugar and add salt and pepper to taste. For chunky soup, serve as is, garnished generously with sour cream or plain yogurt. For a smooth soup, cool slightly then purée in batches in the blender or food processor.
Reheat if necessary, and serve. A hearty rye bread is the ideal accompaniment.
Prep Time: 15 minutes
Cook Time: 1 hour
Container: Large pan or stock pot


Ingredients
-
1 pound beets
-
1 pound potatoes
-
1 pound cabbage
-
carrots
-
onions
-
1 pound tomatoes (or use canned )
-
2 quarts broth or stock (beef, chicken or vegetable)
-
3 tablespoons vinegar or lemon juice
-
1 tablespoon honey or sugar