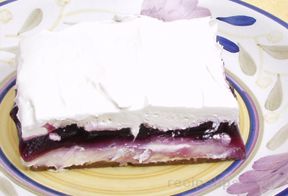 Directions
Preheat oven to 350°F.
Crust: Mix graham crackers, butter or margarine and sugar together and pat into the bottom of a baking pan.
Bake crust for 5 min.
Filling: Combine one 8 oz. carton of whipped topping with the powdered sugar, and cream cheese in a mixing bowl. Blend with an electric mixer until smooth. Spread over cooled crust.
Top filling with the blueberry pie filling and then top the blueberry filling with the second 8 oz. carton of whipped topping.
Chill in the refrigerator.
Prep Time: 1 hour
Cook Time: 5 minutes
Container: 9" x 13" baking pan or glass baking dish


Ingredients
-
CRUST:
-
1 package graham crackers
-
1/2 cup butter or margarine
-
1/4 cup sugar
-
FILLING:
-
2 whipped topping (8 oz. each)
-
1 cup powdered sugar
-
8 ounces cream cheese
-
1 blueberry pie filling (21 oz. can)