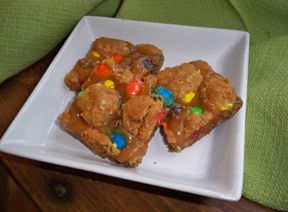 Directions
Preheat oven to 350° F.
Melt 3/4 cup of margarine and add oatmeal, brown sugar, flour, soda, and salt. Stir ingredients together until mixed thoroughly. Reserve approximately 1/8 of the crust mix to crumble over the top of the bars just before the final baking. Pat the rest of the crust into the bottom of an ungreased 9" x 13" baking pan.
Bake the crust for 10 minutes. While the crust is baking, combine the caramels, milk and maragarine in a small saucepan. Cook over medium-low heat until caramels have melted. Stir the caramel mixture often while melting.
When the crust is done, drizzle the caramel mixture over the crust. Then sprinkle the M & M's evenly over the caramel topping. Crumble the remaining crust over the top.
Bake again for 15 minutes. Allow to cool and cut to desired size.
Tip: Use holiday colored M & M's to produce bars with a more seasonal appearance.
Prep Time: 30 minutes
Cook Time: 30 minutes
Container: 9
Servings: 24


Ingredients
-
CRUST:
-
3/4 cup margarine
-
1 cup oatmeal
-
3/4 cup brown sugar
-
1 cup flour
-
1 teaspoon baking soda
-
1/2 teaspoon salt
-
TOPPING:
-
40 caramels
-
4 tablespoons milk
-
3 tablespoons margarine
-
1 cup M & M chocolate candies