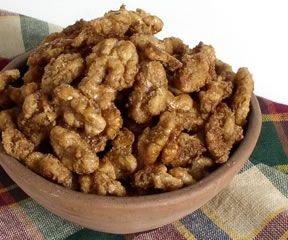 Directions
Preheat oven to 350° F. Lightly oil bottom of baking sheet.
In a medium bowl, hand beat egg whites until foamy.
Add walnuts and brown sugar, stir until combined.
Arrange coated walnuts on oiled baking sheet in a single layer and keep separated from each other.
Bake 12-14 minutes, or until golden brown.
Remove from pan and cool.
Use for garnish on salads or as a snack.
Prep Time: 15 minutes
Cook Time: 15 minutes
Servings: 8
Serving Size: 2 ounces


Ingredients
-
16 ounces walnuts (or your choice of nut)
-
1 egg white, large
-
1/2 cup brown sugar, packed - use 1/3 cup if you like them a little less sweet