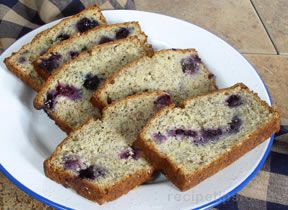 Directions
Preheat oven to 350° F. Grease loaf pan.
In a large mixing bowl combine flour, sugar, baking powder, baking soda and salt and stir in the oatmeal.
Add eggs, oil and bananas. Stir until just combined.
Pour 1/2 of prepared batter into pan and cover with the blueberries. Then cover blueberries with remaining batter.
Bake 1 hour or until a toothpick inserted into center of bread comes out clean. Cool in pan about 10-15 minutes. Remove from pan and cool completely.
Wrap tightly in foil or plastic wrap and cool in refrigerator before serving.
Prep Time: 15 minutes
Cook Time: 1 hour
Container: 9


Ingredients
-
1 1/2 cups all purpose flour
-
2/3 cup sugar
-
2 teaspoons baking powder
-
1/4 teaspoon baking soda
-
1/2 teaspoon salt
-
3/4 cup oatmeal, quick cooking
-
1/3 cup canola oil
-
1 teaspoon vanilla
-
2 eggs, slightly beaten
-
1 cup bananas, ripe, mashed
-
1 cup blueberries