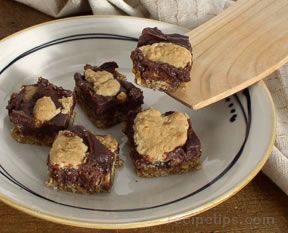 Directions
Preheat oven to 350º F.
Add condensed milk, chocolate chips, 2 tablespoons butter and vanilla to a saucepan. Stir constantly, on low heat, until melted and well combined. Set aside.
Cream 1/2 cup margarine or butter and brown sugar together. Add egg and one teaspoon vanilla. In a separate bowl, mix together flour, salt and soda. Add to margarine and sugar mixture. Stir in oatmeal.
Grease or spray bottom of 9x13" pan. Pat 2/3 of crust mixture on bottom of pan. Pour chocolate filling over top of crust, smoothing evenly. Top with remaining dough mixture, patting it slightly into place. There will not be enough dough to cover top completely.
Bake 20 minutes.
Prep Time: 30 minutes
Cook Time: 30 minutes
Servings: 24


Ingredients
-
Chocolate Filling:
-
1 can sweetened condensed milk (14-ounce can)
-
1 package chocolate chips (12 ounce pkg)
-
2 tablespoons butter
-
1 teaspoon vanilla
-
Crust:
-
1/2 cup (1 stick) butter or margarine
-
1 cup brown sugar
-
1 egg
-
1 teaspoon vanilla
-
1 1/4 cups flour
-
1/4 teaspoon salt
-
1/2 teaspoon baking soda
-
1 1/2 cups uncooked oatmeal