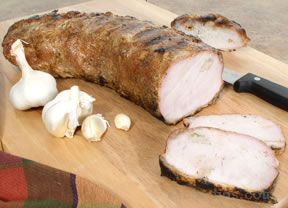 Directions
Peel and slice garlic cloves. Cut slits into both sides of pork loin and insert sliced garlic in each slit (use about 10-15 slices per side of loin). Rub creole seasoning over entire pork loin.
Place pork loin in roasting pan and pour approximately 1/2 beer over pork loin. Cover pan and marinate at minimum of 3 hours, longer if desired.
Loin may then be grilled or baked.
Oven: bake the loin uncovered at 325º F, 20 to 24 minutes per pound. (The internal temperature should read 155º - 160º F for medium, 165º - 170º F for medium well.) After removing meat from oven the temperature will rise approximately 5º F.
Prep Time: 15 minutes
Cook Time: 3 hours
Container: large roasting pan and a grill
Servings: 10


Ingredients
-
6 pounds whole pork loin, boneless
-
8 cloves garlic, peeled and sliced
-
1 tablespoon creole seasoning, to taste
-
12 ounces beer