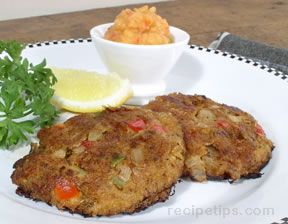 Directions
In a large bowl, combine 1 cup of bread crumbs, the onion, red pepper, green pepper, parsley, lemon or lime juice, hot sauce, crab meat and slightly beaten eggs. Form approximately eight 1/2-inch thick patties.
Spread remaining bread crumbs on a plate. Coat each crab cake with bread crumbs.
In a large skillet, over medium heat, add 2-3 tablespoons vegetable oil. Fry crab cakes 3 to 4 minutes per side. Garnish with a lemon wedge.
Prep Time: 15 minutes
Cook Time: 15 minutes
Container: skillet


Ingredients
-
2 cups bread crumbs, coarse, fresh, divided
-
1/4 cup onion, finely chopped
-
1/4 cup red bell pepper, finely chopped
-
1/4 cup green bell pepper, finely chopped
-
1 tablespoon parsley, fresh, chopped
-
1 tablespoon lemon or lime juice, fresh
-
2 teaspoons hot pepper sauce
-
1/2 teaspoon black pepper, freshly ground
-
1 pound crab meat
-
2 eggs, slightly beaten
-
3 tablespoons vegetable oil
-
1 lemon, cut into wedges