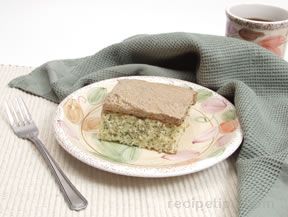 Directions
Soak poppy seeds in amount of water listed on cake mix for at least 2 hours.
Mix together cake mix, poppy seeds with water, egg whites, oil, and pudding mix and beat for 2 minutes.
Bake for 40 minutes at 350°.
For frosting: cook milk and flour until smooth.
Beat together butter, crisco, brown sugar, and maple extract for 5 minutes. Add the milk and flour mixture and beat 5 minutes more.
Frost cooled cake and enjoy.
Prep Time: 15 minutes
Cook Time: 45 minutes
Servings: 15
Serving Size: 1 piece


Ingredients
-
1 package white cake mix
-
2 ounces poppy seeds
-
water
-
4 egg whites
-
1/2 cup vegetable oil
-
1 package instant vanilla pudding
-
FROSTING:
-
1 cup milk
-
5 tablespoons flour
-
1/2 cup butter
-
1/2 cup crisco
-
1 cup brown sugar
-
2 tablespoons maple flavoring extract