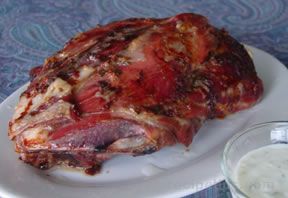 Directions
Preheat oven to 250°.
Trim any excess fat from the lamb. Make shallow slits an inch or so apart into the meat. Mash or press the garlic. Finely chop the fresh rosemary (pulverize if using dried). Mix garlic, rosemary and salt into a paste and rub over the meat and into the slits.
Put lamb into a roasting pan and cover with foil (don't make a tight seal). Roast for 4 hours, uncover and continue to roast for another 1 - 2 hours, until the meat is very tender. Serve warm.
Prep Time: 30 minutes
Cook Time: 6 or more hours
Container: Roasting pan
Servings: 8


Ingredients
-
5 pounds leg of lamb, bone-in
-
2 cloves garlic, or more, to taste
-
1 tablespoon fresh rosemary, or 1 teaspoon dried
-
2 teaspoons salt