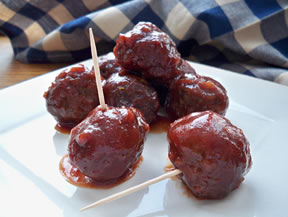 Directions
Mix ground beef, breadcrumbs, onions, milk, egg, parsley, salt, pepper, and Worcestershire sauce. Shape into 1 inch balls.
Place on a broiler pan and bake in an oven at 350 degrees F. for 20 minutes; turn and cook for approximately 10 more minutes. Cook until they are no longer pink in the middle. Drain on paper towels.
Heat chili sauce, jelly, and brown sugar in a saucepan, stirring frequently until jelly is melted.
Add meatballs and stir until thoroughly coated. Simmer 30 minutes, uncovered. Meatballs and sauce can also be placed in a crockpot and cooked on low for 1 to 2 hours or until thoroughly heated.
Makes 5 dozen.
Prep Time: 45 minutes
Cook Time: 30 minutes


Ingredients
-
2 pounds ground beef
-
1/2 cup dry bread crumbs
-
1/3 cup minced dry onion
-
1/4 cup milk
-
1 egg
-
1 tablespoon parsley
-
1 teaspoon salt
-
1/8 teaspoon pepper
-
1/2 teaspoon Worcestershire sauce
-
1 bottle chili sauce (12 ounce bottle)
-
3/4 cup grape jelly
-
2 tablespoons brown sugar