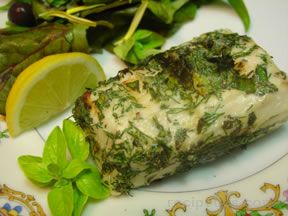 Directions
For this versatile dish, use whichever herbs you prefer. This recipe used savory, marjoram and dill for herbs, but parsley, oregano, mint or cilantro are other herbs that could be tried.
Chop the herbs finely, add salt and pepper, mix well. Press this mixture into the fillets on both sides.
Wrap the herb-coated fillets in plastic wrap or foil and refrigerate for an hour or more, up to 24 hours.
Heat the grill and oil the grates very throughly, or use an oiled grilling basket.
Drizzle or spray cooking oil on the fillets, being careful not to dislodge the herb coating. Cook the fish over direct heat, about 9 or 10 minutes total for each 1 inch of thickness. It should be opaque at the center when done. Be careful not to overcook it. Overcooked fish tends to be dry and flavorless.
Slice the lemon, if using, into wedges. Have the butter melted if you wish to use it as a pour-over sauce. Serve hot off the grill.
Prep Time: 1 hour
Cook Time: 15 minutes
Container: Grill
Servings: 4


Ingredients
-
1 1/2 pounds skinless fillets of any firm fish
-
1/2 cup chopped mixed fresh herbs
-
1/2 teaspoon salt
-
1/4 teaspoon pepper
-
2 tablespoons olive, canola or any mild vegetable oil
-
1 lemon (optional)
-
2 tablespoons butter (optional)