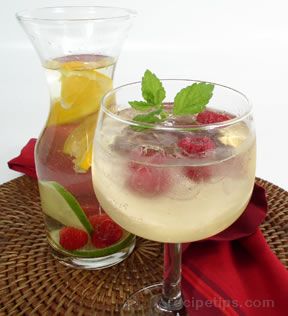 Directions
Heat the water and sugar until sugar dissolves and then allow the liquid to cool to room temperature.
Add the remaining ingredients, including brandy if desired.
Before adding the soda water, chill contents for at least several hours or overnight if possible. Add the soda water.
Pour each serving over ice and garnish with several fresh raspberries and a sprig of mint when ready to serve. Enjoy!
Prep Time: 15 minutes
Container: Wine glass
Servings: 6
Serving Size: 8 ounces


Ingredients
-
1/2 cup hot water
-
1/2 cup sugar
-
1 750 Ml bottle white wine
-
3/4 cup brandy (if desired)
-
1 lime - cut in slices
-
1 orange - cut in slices
-
1/2 cup raspberries
-
2 cups club soda
-
cracked or cube ice
-
mint leaves for garnish