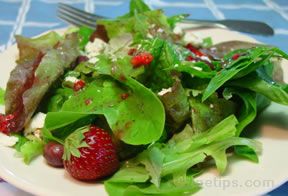 Directions
Wash and dry the greens.
Wash, stem and dice the strawberries, reseving a few whole berries for garnish.
Make a vinagrette: mix together 1/3rd cup of canola or other mild-flavored vegetable oil, 2 Tbsp lemon juice, 1 Tbsp water, 1 pressed or mashed garlic clove (optional) and salt and pepper to taste.
With a fork, mash half the diced berries and add to the vinagrette. Stir or shake well.
In a large salad bowl, toss the greens with the dressing, the remaining diced berries, the crumbled feta cheese (if using) and garnish with the whole berries. Serve immediately.
Prep Time: 15 minutes
Container: Large salad bowl


Ingredients
-
2 quarts mixed salad greens
-
1 cup strawberries, very ripe
-
1/2 cup feta cheese (optional)
-
1/3 cup canola or other mild flavored oil
-
2 tablespoons lemon juice
-
1 clove garlic (optional)
-
1 tablespoon water
-
salt and pepper