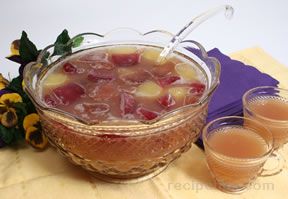 Directions
Night before: Fill one ice cube tray with pineapple juice, one ice tray with cranberry juice, and one ice tray with grape juice. Freeze the ice cube trays overnight. Refrigerate the remaining juice (including orange juice).
In small saucepan, over medium heat, dissolve sugar in 1/2 cup of water. Stir constantly. Once sugar is dissolved, bring mixture to a boil and boil for 1 minute. Remove from heat and allow to cool.
In punch bowl, add lemon juice. Pour the cooled sugar water mixture into the punch bowl along with the remaining juices (including the orange juice). Add sparkling water and stir.
Prior to serving, add the frozen juice cubes.
Prep Time: 30 minutes
Cook Time: 15 minutes
Container: Uses three ice cube trays
Servings: 12


Ingredients
-
2 cups orange juice
-
46 ounces pineapple juice (unsweetened)
-
32 ounces cranberry juice
-
24 ounces grape juice
-
1/4 cup granulated sugar
-
1/2 cup water
-
1/4 cup lemon or lime juice
-
32 ounces sparkling water