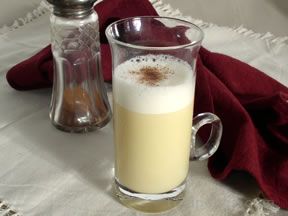 Directions
Separate eggs. In a large bowl, beat egg yolks while slowly adding sugar and bourbon.
In a separate bowl, beat egg whites until they become stiff. Fold the yolk mixture into the egg whites.
In a third bowl, whip the heavy cream until it forms stiff peaks. Fold the whipped cream into the egg mixture. Sprinkle with grated cinnamon or nutmeg.

*NOTE: When a recipe requires "raw" eggs as an ingredient, there is always a concern that potentially harmful bacteria may have invaded the egg which may cause illness in humans. Although the probability is low (1 in 20,000 eggs), the concern does exist; therefore, if you are concerned about using raw eggs, consider an egg substitute, such as pasteurized whole eggs, egg white substitutes, or meringue powder, to reduce the potential of bacterial contamination.
Prep Time: 25 minutes
Cook Time: 0 minutes
Servings: 6


Ingredients
-
10 medium eggs
-
3/4 cup superfine sugar
-
1 cup bourbon
-
1 quart heavy cream
-
Grated nutmeg or ground cinnamon