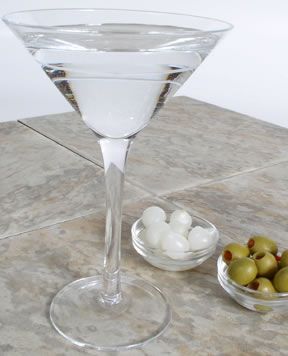 Directions
Chill glass in the freezer.
Fill a pitcher (a martini pitcher if available) with ice. Slowly pour the gin into pitcher. Add dry vermouth and gently stir. Strain into a chilled glass.
Garnish with an olive.
*"Very dry" martini: Add only a single drop of vermouth or place a splash of vermouth in a chilled glass, swirl the vermouth to cover the inside of glass. Pour the vermouth out of glass before pouring chilled gin.
Prep Time: 1 minute
Cook Time: 0 minutes
Container: Martini pitcher and Martini glass
Servings: 1


Ingredients
-
2 1/2 ounces dry gin
-
1/2 ounce dry vermouth*
-
Garnish: olive and/or lemon peel
-
Ice