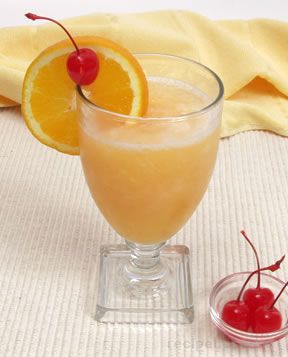 Directions
In a large sauce pan, heat 4 cups water and 1 cup sugar until sugar has completely dissolved. Remove from heat.
Add peach gelatin and stir. Allow mixture to cool. Add peach schnapps, lemon juice and orange juice, stir.
Place cooled mixture into a freezer safe container. Freeze for a minimum of 24 hours.
Place slush in a tall glass and top with lemon lime soda, garnish with orange and lemon slices.
* NOTE: Lemon lime soda is not included in the recipe: it is used as a topper when slush is served.
Prep Time: 15 minutes
Cook Time: 0 minutes


Ingredients
-
4 cups water
-
1 cup sugar
-
1 large package peach gelatin (or 2 small packages)
-
1 cup lemon juice
-
48 ounces orange juice
-
1 pint peach schnapps
-
2 litres lemon lime soda*
-
1 orange, thinly sliced (garnish)
-
1 lemon, thinly sliced (garnish)