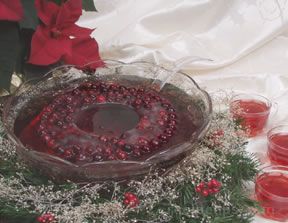 Directions
In a small saucepan, bring sugar and water to a boil. Stir constantly until sugar has dissolved. Cool to room temperature, and then refrigerate until chilled (approximately 2 hours).
In a punch bowl, combine grape juice, peach liqueur, wine, and cooled sugar and water mixture. Add an ice ring to punch bowl to keep wine chilled (see directions below).
Holiday Ice Ring: Use cranberries or other hard fruit (i.e.: grapes), water, and a 4 cup ring mold.
Put ¾ of an inch water in the 4 cup mold and freeze.
When mold is frozen solid, arrange fresh cranberries on ice. Then, fill with water and freeze until solid, approximately 6 hours.
To remove the ice ring, briefly dip bottom of mold in warm water.
Prep Time: 10 minutes
Cook Time: 0 minutes
Servings: 14
Serving Size: 4 ounces


Ingredients
-
1/2 cup water
-
1/2 cup sugar
-
2 1/4 cups white grape juice, chilled
-
1 cup peach liqueur
-
1 bottle Red Bordeaux wine, chilled
-
Ice Ring