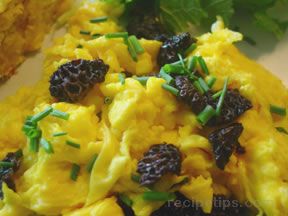 Directions
Slice the morels lengthwise to make sure they are clean inside, rinse well, and cut into thin strips. (The stems are often tough. You may want to reserve them for some other use.)
If using fresh herbs for garnish, get them ready.
In a non-stick skillet, melt 1 tablespoon of the butter over medium heat, add the sliced morels, salt very lightly and allow them to cook and release their juices.
Meanwhile, break the eggs into a bowl, add 1 tablespoon water or milk and a pinch of salt, and whisk until well-mixed and uniform in color.
Check the morels for doneness. By the time the moisture has nearly cooked down, they should be tender, not rubbery. If not yet tender, add 1 to 2 tablespoons of water and continue to cook. When they seem done, add a tablespoon of sherry or white wine and cook, stirring constantly, until this is absorbed.
Taste for seasoning, add salt and pepper if needed and remove the mushrooms and any bits or liquid from the pan to a small bowl to keep warm.
Return pan to heat, add 1 tablespoon butter and when the butter is sizzling, add the beaten eggs. Reduce heat to medium-low and cook and stir until eggs are done, about 3 to 4 minutes. (Don't cook them to the point of dryness; they should be still a bit shiny.) Quickly stir in the sautéed mushrooms, garnish with chopped herbs (optional) and serve.
Prep Time: 15 minutes
Cook Time: 15 minutes
Container: 8 to 10 inch skillet or saute pan, preferably non-stick
Servings: 2


Ingredients
-
4 eggs
-
1 cup sliced morels (substitute any fresh mushrooms)
-
2 tablespoons butter
-
1 tablespoon milk or water
-
1 tablespoon sherry or white wine (optional)
-
2 tablespoons chopped chives or other fresh herbs (optional)
-
salt and pepper