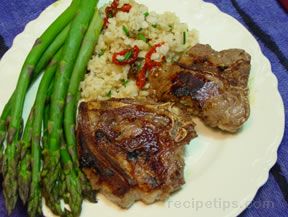 Directions
Trim excess fat from chops. Make a horizontal slit in the side of each one, as large as possible without cutting all the way through.
Toast the sliced almonds over medium heat in a dry skillet, stirring constantly, until they just begin to brown - about 3 - 4 minutes. This step isn't essential, but toasting increases the nutty flavor.
Mash together in a small bowl the minced garlic, chopped marjoram and preserved lemon (or lemon zest plus 1/2 teaspoon salt). Add the toasted nuts and mix in well. Divide this mixture among the chops and spread it into the pockets you've cut.
Lightly salt the chops and grill or pan-broil to the desired degree of doneness (3 - 5 minutes per side). Make a small cut into the meat to check for doneness. The flavor will be best if not cooked past medium (pink center).
Prep Time: 30 minutes
Cook Time: 15 minutes
Container: Grill or large skillet
Servings: 4


Ingredients
-
1 teaspoon preserved lemon (substitute 2 teaspoons lemon zest and 1/2 teaspoon salt)
-
2 teaspoons fresh marjoram (substitute 1 teaspoon dried)
-
salt
-
8 lamb chops
-
2 cloves garlic, minced
-
1/2 cup sliced almonds