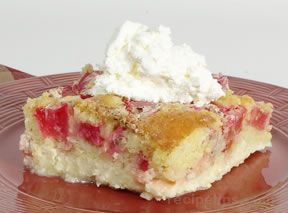 Directions
Preheat oven to 350º F. Grease or spray pan.
Make cake mix according to package directions, except add 1 teaspoon of vanilla to the cake batter. Pour batter into prepared pan.
Cover batter with 4 cups of chopped rhubarb. Mix sugar and cinnamon together and sprinkle over the top of the rhubarb. Pour the pint of whipping cream on top.
Bake 50 to 60 minutes or until done. Cool slightly before cutting.
Serve with ice cream or whipped topping if desired. Store leftovers in the refrigerator.
Prep Time: 15 minutes
Cook Time: 1 hour
Container: 9"x13" baking dish
Servings: 12
Serving Size: 1


Ingredients
-
18 1/4 ounces yellow cake mix
-
1 teaspoon vanilla
-
4 cups rhubarb, chopped
-
1 cup granulated sugar
-
3/4 teaspoon ground cinnamon
-
1 pint whipping cream or fat-free half & half