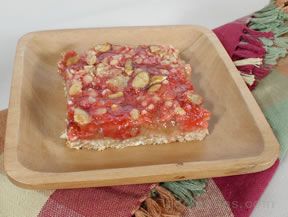 Directions
Preheat oven to 350 degrees F. Grease or spray bottom and sides of pan.
Crust: In a large bowl, mix oatmeal, brown sugar, flour, salt, cinnamon and nutmeg. Cut in the butter until mixture is crumbly. Press 3 cups of crust mixture into bottom of the pan to form a crust.
Filling mixture: In a large pan, combine rhubarb, sugar, lemon peel and vanilla. Boil for approximately 4 minutes over medium heat, stirring frequently.
Meanwhile, in a small bowl, mix cornstarch and water together. Stir until smooth. Add to the cooked rhubarb mixture. Continue cooking until thickened, approximately 1 minute, stirring constantly.
Add the strawberry jello mix and stir until dissolved.
Remove from heat. Pour cooked rhubarb mixture over crust. Sprinkle remaining crust mixture on top. If desired, sprinkle almonds on top.
Bake 35-40 minutes. Allow to cool before cutting bars.
Prep Time: 30 minutes
Cook Time: 45 minutes
Container: 9
Servings: 24


Ingredients
-
CRUST:
-
1 1/2 cups oatmeal, regular (uncooked)
-
3/4 cup brown sugar, packed
-
1 1/2 cups all purpose flour
-
1/4 teaspoon ground nutmeg, or 1/8 teaspoon freshly ground nutmeg
-
1/2 teaspoon salt
-
1 teaspoon ground cinnamon
-
3/4 cup butter or margarine
-
FILLING:
-
6 cups rhubarb, chopped fine
-
1 cup granulated sugar
-
1 tablespoon lemon peel
-
2 teaspoons vanilla
-
1/4 cup water
-
3 tablespoons to 4 tablespoons cornstarch
-
3 ounces strawberry jello (dry)
-
TOPPING:
-
1/4 cup sliced almonds (optional)