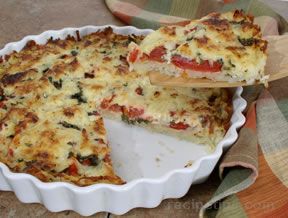 Directions
Preheat oven to 425ºF.
If using frozen hash browns, thaw and press out any excess moisture with paper towels. Press hash browns into pie plate or quiche pan to form a full crust. Brush crust with melted butter or margarine, making sure to cover the top edges of crust.
Bake uncovered for 25 minutes. Remove from the oven and immediately sprinkle 1 cup of shredded mozzarella cheese over hot crust.
Reduce oven temperature to 375º F. Cut each tomato into 8 wedges and remove the seeds. Arrange wedges over the melted cheese. In a blender or food processor, add basil leaves and garlic cloves, and process until coarsely chopped. Sprinkle this mixture over the tomatoes.
In a bowl, combine parmesan cheese, mayonnaise, 1 cup mozzarella cheese, and pepper. Spread this mixture over the top of the quiche.
Bake uncovered for 20-25 minutes or until the cheese is lightly browned and bubbly.
Prep Time: 15 minutes
Cook Time: 30 minutes
Container: 10" quiche pan or pie plate
Servings: 8


Ingredients
-
20 ounces to 24 ounces hash browns, refrigerated or frozen
-
1/3 cup margarine or butter, melted
-
2 cups mozzarella cheese, shredded, divided
-
6 plum tomatoes
-
1 cup fresh basil leaves, loosely packed
-
2 cloves or 3 cloves of garlic
-
1/2 cup mayonnaise
-
1/3 cup parmesan cheese, shredded
-
1/8 teaspoon black pepper