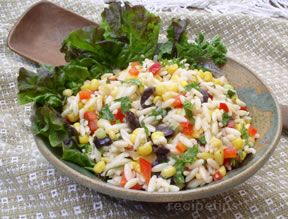 Directions
Dressing: In food processor, blend canola oil, garlic, ½ of feta cheese (4 ounces), and ½ of prepared cucumbers. Process until smooth, add dill weed, and season with salt and pepper.
Salad: Cook orzo according to package directions. 7 minutes before the orzo is cooked, add the frozen corn. Continue cooking an additional 2 minutes. Drain.
Place in a large bowl. Add the remaining feta cheese and cucumber. Add roasted red peppers and parsley. Combine well.
Stir in dressing. Season with salt and pepper to taste, serve.
Prep Time: 15 minutes
Cook Time: 15 minutes
Container: salad bowl
Servings: 10


Ingredients
-
1/4 cup canola oil
-
1 clove garlic, minced
-
8 ounces feta cheese, crumbled and divided
-
4 cucumbers, peeled, seeded, chopped and divided
-
1 teaspoon dill weed
-
1/2 cup sweet roasted red pepper strips
-
1/2 cup fresh parsley, chopped
-
16 ounces orzo
-
16 ounces frozen corn niblets
-
salt and pepper to taste