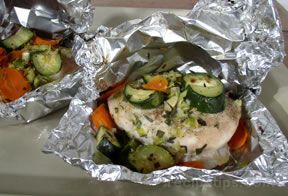 Directions
Preheat oven to 425 degrees F.
Tear off 4 pieces of foil, each approximately 12 inches square. Spray the inside of the foil with vegetable or no-stick spray. Salt and pepper chicken breasts and place each on a prepared foil square.
Combine green onions, carrots, zucchini, tarragon, garlic, and lemon zest in a bowl, and then top each chicken breast with the vegetables and sprinkle salt and pepper on top of the vegetables.
Fold all edges of foil together tightly to seal. Place on a large baking sheet and bake in prepared oven. Large chicken breasts bake approximately 25 minutes; 4 to 5 ounce chicken breasts bake for approximately 20 minutes.
Open the packages carefully when serving as they will contain hot broth. Transfer the chicken and vegetables to a serving plate. The broth can now be spooned over the food.
Prep Time: 15 minutes
Cook Time: 30 minutes
Container: tin foil and baking sheet
Servings: 4


Ingredients
-
4 chicken breasts, boneless, skinless (4 to 5 oz. each)
-
4 green onions, sliced thin
-
1 large carrot, peeled, sliced thin
-
1 zucchini, sliced into 1 to 1 1/2 inch pieces
-
2 teaspoons fresh tarragon, chopped
-
1 clove (large) garlic, chopped coarsely
-
1 teaspoon fresh lemon zest
-
salt and pepper to taste