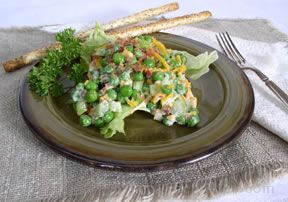 Directions
Place peas, shredded cheese, celery and onions in a bowl.
In a separate bowl, combine dressing ingredients. Pour dressing over pea and cheese mixture and blend well. If desired, fold in bacon bits.
Cover and refrigerate before serving. Doubles easily.
*Note:Frozen peas can be used; place the peas in a strainer in the sink. Pour boiling water over the peas to thaw; and then allow peas to cool before preparing the salad.
Prep Time: 15 minutes
Container: salad bowl
Servings: 6


Ingredients
-
15 ounces canned peas, drained*
-
1 cup cheddar or colby cheese, shredded
-
1 cup celery, coarsely chopped
-
1/4 cup onion, minced (adjust to taste)
-
DRESSING:
-
1/2 cup salad dressing or mayonnaise
-
2 teaspoons sugar
-
2 teaspoons milk
-
salt and pepper to taste
-
1/2 cup bacon bits (optional)