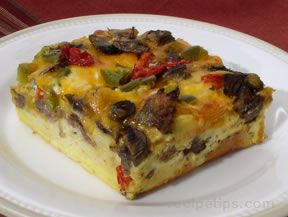 Directions
Over medium heat, cook the sausage until browned on the outside and no longer pink on the inside. Drain the excess grease. Cool and crumble.
In a large bowl, mix together eggs, milk, mustard, salt, and pepper.
Cover the bottom of prepared baking dish with bread cubes. Sprinkle the crumbled sausage, shredded cheese, mushrooms, red peppers, green peppers, and onions on top of the bread.
Pour the egg mixture over the top of the sausage mixture. Cover with plastic wrap and refrigerate overnight or at least 4 hours.
Preheat the oven to 325°. Remove the plastic wrap covering before baking. Bake 55 to 60 minutes, uncovered. Let stand 10 to 15 minutes before serving.
Prep Time: 30 minutes
Cook Time: 1 hour
Container: 9
Servings: 10


Ingredients
-
16 ounces Italian sausage
-
12 eggs, slightly beaten
-
3 cups milk
-
1 tablespoon spicy brown mustard
-
1/2 teaspoon black pepper
-
1 teaspoon salt
-
6 cups or 7 cups bread, crust removed and cubed
-
3 cups sharp cheddar cheese, shredded
-
1 cup fresh mushrooms, sliced
-
1/2 cup roasted red pepper strips
-
1/2 cup green pepper, diced
-
2 bunches green onions, sliced