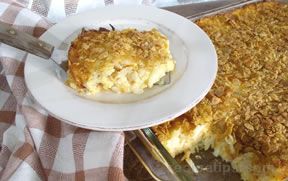 Directions
Preheat oven to 350º F.
In a large bowl, mix frozen hash browns, sour cream, soups, onion, seasonings, and cheddar cheese. Add 1/4 of melted butter to potato mixture. Spread into prepared baking dish.
Combine corn flake crumbs and 1/4 cup of melted butter and spread over top of casserole.
Bake uncovered for 1 hour. Serve hot.
Prep Time: 15 minutes
Cook Time: 1 hour
Container: 9
Servings: 12


Ingredients
-
2 pounds frozen hash brown potatoes
-
1 pint sour cream (light works fine)
-
10 3/4 ounces can cream of celery soup
-
10 3/4 ounces can cream of chicken soup
-
1/2 cup chopped onion
-
1/2 teaspoon salt, adjust to taste
-
1/2 teaspoon black pepper, adjust to taste
-
1/2 cup butter, melted and divided
-
3 cups cheddar cheese, grated
-
2 cups corn flake crumbs