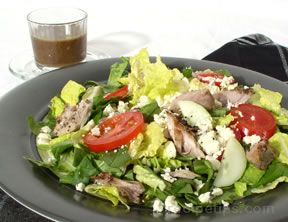 Directions
Cover each individual salad plate with romaine and spinach pieces.
Arrange sliced tomatoes and sliced cucumbers on top of lettuce.
Cut or shred cooked fillets and divide among plates. Garnish with feta cheese.
DRESSING: In a small bowl, combine all dressing ingredients and whisk together. Drizzle over salad and serve.
Prep Time: 15 minutes
Container: individual salad plates
Servings: 4


Ingredients
-
2 pounds mackerel fillets, cooked
-
10 ounces spinach leaves, washed and torn into bite size pieces
-
1/2 head of romaine lettuce, washed and torn into bite size pieces
-
4 to 6 roma tomatoes, sliced thin
-
1/2 cup flavored feta cheese, crumbled
-
1 cucumber, peeled and sliced thin
-
DRESSING:
-
3 tablespoons balsamic vinegar
-
3 teaspoons spicy brown mustard
-
1 clove garlic, minced
-
freshly ground black pepper to taste
-
salt to taste
-
1/2 cup olive oil