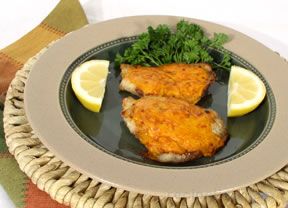 Directions
Preheat oven to broil. Place oven rack on top shelf.
Lightly oil top of broiler pan. Cut fillets into serving size. Cover both sides of fillets lightly with oil and sprinkle each side with salt and pepper. Place on prepared broiler pan.
Broil 5-6 minutes on one side, turn fillets and continue broiling 5-7 minutes or until lightly brown and fish flakes easily. Remove from oven.
CHEESE MIXTURE: While the fish is broiling, combine mustard, horseradish, chili sauce, and cheese.
When the fish is done, cover tops of fillets with cheese mixture, return to oven. Broil 1-2 minutes or until cheese melts and browns. Garnish with lemon wedges.
Prep Time: 15 minutes
Cook Time: 15 minutes
Container: broiling pan
Servings: 2


Ingredients
-
1 pound grouper fillet
-
canola oil
-
salt, adjust to taste
-
freshly ground black pepper, adjust to taste
-
CHEESE MIXTURE:
-
1 tablespoon spicy brown mustard
-
1 teaspoon prepared horseradish
-
1 tablespoon chili sauce
-
1/2 cup sharp cheddar, shredded
-
GARNISH:
-
1 fresh lemon, cut in slices or wedges