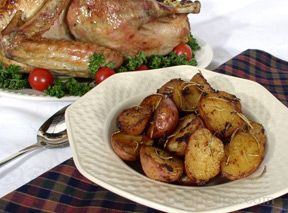 Directions
Preheat oven to 425° F.
Wash potatoes and cut in half, do not peel.
In a bowl, combine oil, garlic, and rosemary. Toss potatoes in oil mixture until coated. Pour all ingredients into jelly roll pan, making sure excess oil and herbs are transferred to baking pan. Sprinkle with salt, pepper, and herbs.
Bake in hot oven for 40-45 minutes, or until potatoes are golden brown. Stir once while baking.
Serve warm or at room temperature.
Prep Time: 15 minutes
Cook Time: 45 minutes
Container: jelly roll pan or large baking sheet
Servings: 4


Ingredients
-
2 pounds new red potatoes, small, washed, and halved
-
4 tablespoons canola oil or olive oil
-
2 tablespoons fresh rosemary, minced (adjust to taste)
-
2 cloves garlic, minced
-
1/2 teaspoon salt (adjust to taste)
-
1/2 teaspoon freshly ground black pepper
-
1 teaspoon dried herbs (i.e.: parsley, basil)