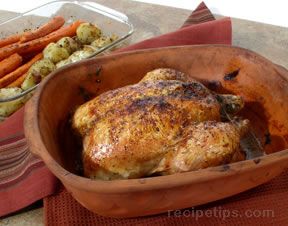 Directions
Soak top and bottom of clay pot in cold water for 10 minutes, or follow soaking directions provided with the clay pot.
Do not preheat oven.

Rinse chicken in cold water, pat dry with paper towel. Lightly oil outside of chicken and sprinkle salt & pepper inside cavity and on the outside skin. Place chicken breast side up in clay pot and fill cavity of chicken with onion, garlic, parsley, fresh rosemary, and oil. Sprinkle paprika on top of chicken.
Cover and put in a cold oven.
Turn oven to 425 degrees F.; bake 90 minutes. Remove the top during the last 10 minutes of baking to brown.
Remove from oven and place on hot pads or a towel. Do not put on a cold surface. Serve directly from clay pot as it retains heat well.
Prep Time: 15 minutes
Cook Time: 1.5 hours
Container: clay pot


Ingredients
-
3 pounds to 4 pounds whole chicken
-
1 medium onion, coarsely chopped
-
2 cloves to 3 cloves of garlic, chopped
-
1 cup parsley, stems removed
-
1 tablespoon fresh rosemary (optional)
-
1 tablespoon butter or canola oil
-
Salt and pepper
-
Paprika for garnish