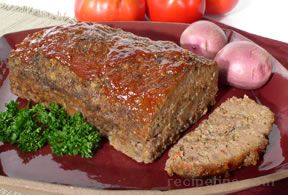 Directions
Preheat oven to 350° F.
In a large bowl, combine sausage and ground beef. Add onion, garlic, egg, oatmeal, tomatoes, salt, and pepper. Stir until well combined. Pour into prepared loaf pan.
In a small bowl, blend brown sugar, mustard, and catsup. Pour mixture over meat loaf.
Bake for 1 hour. Remove from oven and drain excess liquid. Serve hot.
Prep Time: 15 minutes
Cook Time: 1 hour
Container: loaf pan, sprayed with no-stick cooking spray
Servings: 6


Ingredients
-
1 pound lean ground beef
-
1/2 pound Italian sausage
-
1 onion, chopped
-
2 cloves garlic, diced or minced
-
1 egg, slightly beaten
-
1/2 cup oatmeal (not instant), or bread crumbs
-
15 ounces canned diced tomatoes, drained
-
1 teaspoon salt
-
1/2 teaspoon freshly ground black pepper
-
TOPPING:
-
1/4 cup brown sugar, packed
-
1 tablespoon prepared yellow mustard
-
3 tablespoons catsup