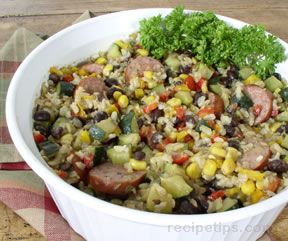 Directions
Prepare rice according to directions on box.
In a large skillet, cook sliced sausage* over high heat until browned, stirring several times to avoid burning.
Remove sausage from pan and add oil, onions, zucchini, peppers, garlic, corn, and dry seasonings. Cook for 5 to 7 minutes over medium heat, stirring frequently.
Add cooked rice and the beans, continuing to cook until all ingredients are hot.
Remove from heat and add sausage. Season to taste and serve.
*Alternative: If turkey kielbasa is unavailable, use smoked sausage or precooked polish sausage.
Prep Time: 45 minutes
Cook Time: 45 minutes
Container: large skillet
Servings: 4


Ingredients
-
12 ounces turkey kielbasa, cut into thick slices
-
1 tablespoon canola oil
-
1 large sweet onion, finely chopped
-
2 medium zucchini, unpeeled and diced
-
1 medium sweet red pepper, diced
-
1 medium yellow pepper, diced
-
2 jalapeno peppers, seeded and minced
-
2 cloves garlic, minced
-
7 ounces canned corn, drained
-
1 teaspoon ground cumin (adjust to taste)
-
1 teaspoon dried oregano
-
1/4 teaspoon ground thyme
-
3/4 teaspoon salt (adjust to taste)
-
1/4 teaspoon coarse ground black pepper (adjust to taste)
-
2 cups cooked rice
-
19 ounces canned black beans, drained