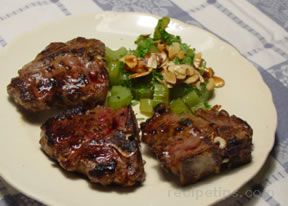 Directions
Trim all excess fat from 8 to 12 (depending on their size) lamb chops.
Prepare the marinade: Chop the rosemary and mince or press the garlic. Using a mortar and pestle, or small bowl and the back of a spoon, mash together the chopped rosemary and pressed garlic.Add soy sauce and olive oil. Rub this mix all over the chops and let stand 1/2 hour to 2 hours.
Lightly film a skillet with canola oil over medium-high heat. Pat the chops dry with a paper towel - they won't brown well if they aren't dry.
When the pan is hot (a drop of water sizzles and evaporates instantly), add the chops without crowding. (Cook in two batches if they would otherwise crowd the pan.) Cook at medium-high heat for 2 or 3 minutes, or until browned. Turn chops and brown the other side for 2 or 3 minutes, then reduce the heat to medium until the chops reach the desired doneness. Depending on their thickness, this may take an additional 3 to 10 minutes.
Check for doneness by making a small cut into the meat. They will taste best if cooked to medium or medium rare.
Remove the cooked chops to a warmed platter and cover. Add 1/2 cup water or wine to the pan, cooking and stirring until all the browned bits are loosened and the volume of liquid is reduced to about 1/2. Pour this sauce over the chops and serve immediately.
Prep Time: 1 hour
Cook Time: 15 minutes
Container: 12 inch heavy bottomed skillet
Servings: 4


Ingredients
-
8 medium lamb chops (more if very small)
-
1 teaspoon finely chopped fresh rosemary (substitute 1/2 teaspoon dried )
-
1 tablespoon soy sauce
-
1 tablespoon olive oil
-
2 cloves garlic
-
1/2 cup water or wine