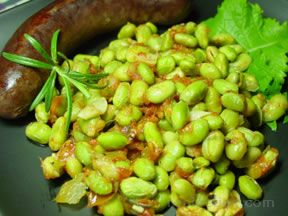 Directions
Sort and rinse the lentils and set aside.
Finely chop or grate the onion and carrot and set aside.
Mince or press 2 garlic cloves. (Use more if you prefer a stronger garlic flavor.)
Grate a small piece of fresh or frozen ginger root to obtain about 1 tablespoon. (1 teaspoon of ground ginger can be substituted, but the flavor is better with grated fresh ginger.)
In a stock pot or heavy-bottomed 3-quart pan, heat 1 tablespoon of canola or olive oil over medium heat.
Add the onion and carrot and stir frequently for several minutes until softened.
Mix in the garlic, ginger, cayenne pepper, and garam masala or curry powder. Stir well.
Add the rinsed and drained lentils, the water, and 1 teaspoon of salt. Stir well and bring to a boil; then reduce the heat and cover the pan.
Simmer until the lentils are soft; then serve. Add more salt if necessary.
Optional: Garnish the lentils with chopped chives or a small quantity of lemon zest.

Note: Fresh ginger root dries out very quickly, but it can be frozen for several months. Simply place the whole piece of ginger (unpeeled) into a small air-tight container and store it in the freezer; then use it as needed. Ginger grates best while it is still frozen.
Container: Stock pot or heavy-bottomed 3-quart pan
Serving Size: 1 cup


Ingredients
-
1 tablespoon canola or olive oil
-
1 onion
-
1 carrot
-
2 cloves garlic
-
1/2 teaspoon cayenne pepper
-
1 tablespoon grated fresh ginger
-
1 teaspoon garam masala or curry powder
-
2 cups lentils
-
6 cups water
-
1 teaspoon salt
-
Optional: chives or lemon zest for a flavorful garnish