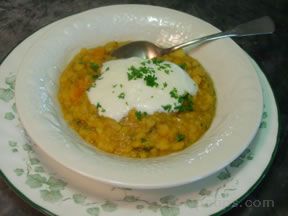 Directions
Chop the bacon or ham into small pieces and cook it over very low heat in a heavy bottomed pan without any added fat.
Sort and rinse the lentils.
While the bacon or ham is cooking, peel and chop the carrots and the parsnips; then chop the onion.
Use a paper towel to soak up the excess fat from the bacon in the pan, leaving about 1 tablespoon of fat in the pan.
Add the chopped vegetables to the pan, stirring occasionally, and cook for about 5 minutes.
Add the lentils and the liquid, bring to a boil, and then reduce the heat. Cover the pan and simmer until the lentils are soft (30 to 40 minutes). Check the soup occasionally to see if more liquid is needed; the lentils should be covered.
Add the salt and pepper (to taste) and serve.
Note: For a thicker soup, put 2 or 3 cups of the soup into a blender or food processer and purée, being very careful not to splash the hot soup from the machine during the blending process. Stir this purée back into the rest of the soup in the pan.

Note: This recipe doubles easily and leftovers freeze well.
Prep Time: 15 minutes
Cook Time: 45 minutes
Container: Heavy bottomed pan (3-quart or larger)
Servings: 4
Serving Size: 1 cup


Ingredients
-
1/2 cup chopped bacon or ham
-
1 onion
-
2 carrots
-
2 parsnips
-
1 cup lentils
-
6 cups water, stock or bouillion
-
salt and pepper (to taste)